Mystery Babylon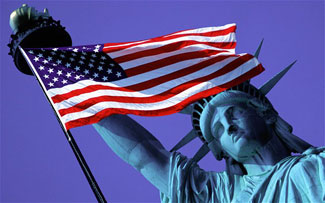 Many Biblical authorities say that the Great Whore of Revelation 17 and 18 is the United States of America (represented by New York City, where world commerce is based). No other nation on earth can adequately fulfill the dozens of identifying descriptions that the Bible uses to describe this world power in the latter days. Many "merchants of the earth" became rich because of her (Revelation 18:3, 9, 15). She lived luxuriously. She glorified herself. (Revelation 18:7).As a side note, Revelation also gives us a hint to the identity of the Harlot Woman - Mystery Babylon in Chapter 18:6

"And saying, Alas, alas, that great city, that was clothed in fine linen, and purple, and scarlet, and decked with gold, and precious stones, and pearls" Revelation 17:3



Translation of the colors:



1. Fine linen -

White


2.

Purple

- from the greek word: porphyrous meaning a deep bluish purple. This color was obtained from very expensive dyes which were obtained from the secretions of several species of mollusks found in the Mediterranean. The color range of this ancient purple was reddish purple to a deep blue depending on the amount of dye that was used in the process. The US flag is not a regular blue, but a very deep blue with a hint of purple.
3. Scarlet -

Red



In other words, the colors of Mystery Babylon, are "red, white, & blue," which are the same colors of "Old Glory," the American flag.